Takaisin
Extremadura is investment potential for the United Arab Emirates
20 syys 2021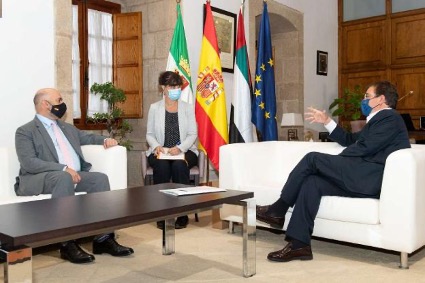 The Emirates ambassador makes an official visit to Extremadura highlighting the options available in the region and the Emirati country
The president of the Extremadura Government, Guillermo Fernandez Vara and the Ambassador of the United Arab Emirates in Spain, Majid Al-Suwaidi have met to talk the potential of Extremadura in strategic sectors where there are greater common interests and possibilities for cooperation between both parties.
During the visit, several meetings were held with senior government officials from the Extremadura Government, representatives of companies and investment authorities, highlighting the most powerful opportunities to strengthen cooperation between the authorities of the region and the UAE in the sectors of Foreign Direct Investment (IED).
The ambassador emphasized the importance of taking advantage of available capacities and experiences and best practices in Extremadura and the UAE in the different areas of development and growth in order to create appropriate opportunities to establish common programs and projects that are of mutual benefit and create channels for direct dialogue between companies.
Majid al-Suwaidi concluded his visit with a business conference with the aim of publicizing the powerful sectors and opportunities available in the UAE for the most important companies in the Extremadura region. He made a presentation on the facilities and advantages that the UAE offers and from which Spanish companies wishing to make their way into the Emirati market can benefit.