Back
Extremadura, a key factor in the electric vehicle value chain
19 Jul 2021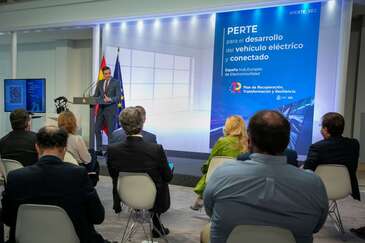 Extremadura called to fully participate in the development of the Strategic Plan for the development of the electric and connected vehicle.
The development of the value chain of the electric and connected vehicle is the focus of the first PERTE (Strategic Project for Economic Recovery and Transformation) launched by the Government of Spain. It is intended for a strategic sector with a great drag capacity for economic growth, employment and the competitiveness of the Spanish economy.
It is a project based on public-private collaboration, aimed at strengthening the entire electric mobility value chain, in which the process of valorization of the lithium resource, from the extraction to the manufacture of batteries, offers an opportunity for foreign investment in Extremadura. The PERTE announced will mean an injection of 4,295 million and a mobilization in terms of investment of more than 24,000 million. The PERTE is financed with the European Economic Reconstruction Funds-Next Generation EU, endowed with 70,000 million.
Extremadura is key in the first links of the value chain, since it is in this region where not only is the main and fundamental raw material for this strategic project, but also the precise infrastructures, as well as the technical and human resources necessary to contribute to its development.